Anyone Can Pray, But . . .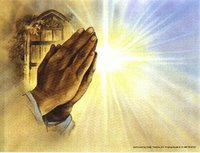 Prayer! It's one of the most practiced rituals, but also one of the least understood and abused. What do we really know and think about prayer?
You can ask for anything in my name, and I will do it, because the work of the Son brings glory to the Father. Yes, ask anything in my name, and I will do it! (John 14:13-14, NLT).
In addition to you and me, there are 6 billion-plus other imperfect people on planet Earth,
all of whom have sinned and fallen short of the glory of God (Romans 3:23).
Who among us can assume that they can approach the perfect, Holy Creator of the Universe, King of kings and Lord of lords? Who can pray?
The answer: Anyone.
But there is one major prerequisite. Jesus says,
"I am the way and the truth and the life. No one comes to the Father except through me" (John 14:6, NIV)
. Contact with God begins when we receive Jesus Christ into our lives as Savior and Lord.
As all Christians should know, access to God is provided by the blood of His own perfect and sinless Son, whose death opened the way into the Temple of the Holies for anyone who put their faith in Him.
"For there is no other name under heaven given to men by which we must be saved" (Acts 4:12, NIV).
Faith in Christ is the open door, but once in the door, we want our prayers to be pleasing to God and successful. Any believer has access to God, but only those who walk in faith and obedience to Christ can expect to receive answers to their prayers.
Praying with a clean heart is vital to successful prayer.
"If I had cherished sin in my heart, the Lord would not have listened" (Psalm 66:18, NIV)
. We cannot expect God to answer our prayers if there is any unconfessed sin in our life.
One of the most frequent hindrances to prayer is an unforgiving spirit.
Jesus says, "When you stand praying, if you hold anything against anyone, forgive him, so that your Father in heaven may forgive you your sins" (Mark 11:25, NIV)
. We must come to God with a forgiving heart if we are to receive the believer's legacy of power in prayer.
Also, we must have a believing heart if we expect God to answer our prayers. Jesus says,
"If you believe, you will receive whatever you ask for in prayer" (Matthew 21:22, NIV)
, and
"According to your faith will it be done to you" (Matthew 9:29, NIV)
. Yet few of us take these words seriously.
Let us be obedient, praying and believing people. The world is waiting to be reached for Christ.
Praying for everything
Pastor Mike
For all the Californians out there
Earthquakes can strike without warning, and being prepared for such a disaster can mean the difference between life and death. Here are some tips to help you and your loved ones make it through a quake:
Those living in areas not prone to earthquakes can respond quickly to the plight of disaster victims in quake zones by complacently smirking and saying, "I told you so."
To minimize loss and damage in a quake, try not to own things.
Practice your burrowing-out-from-under-40-tons-of-rubble skills ahead of time.
Look out your window often. If you see a large, zig-zag-shaped crevasse moving rapidly from the horizon toward your home, step either to the right or the left.
Do you have a treasured childhood toy? Perhaps a stuffed animal, such as a teddy bear? Well, let's see Mr. Bear help you now!